Christmas is a time of celebration all over the world, and Panama is no exception. Although it's celebrated in different ways depending on your cultural background, there are some things that are common to all Panamanians during Christmas. Panama has many cultural attractions and activities that make Christmas a special time of year. From the Christmas lights to the delicious food, Christmas in Panama is an experience like no other, and whether you're a tourist or a full-time Panama resident, you're bound to find something that you enjoy. Here's a look at what you can expect during the holiday season in Panama.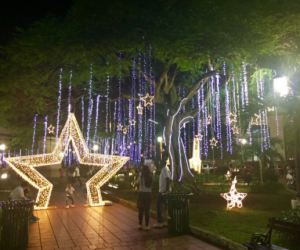 Christmas is a Big Family Holiday in Panama
Like in most of the world that celebrates the holiday, Christmas is a time for family in Panama, and locals take extra care to make it as special as possible. Christmas trees are decorated with ornaments made by children of all ages, parties are held throughout the entire month of December, and Christmas dinner is an event to look forward to. Christmas day itself is spent with family and friends, sharing stories and creating new memories. Families tend to get together earlier in the month to attend various gatherings with cousins, grandparents, parents, and family friends.
It is very common for people to take more than a week of vacation time in December so they can gather with family and friends, and business tends to slow down a bit nationwide. This is important to the culture, as Christmas is a time to reconnect and share meaningful moments with loved ones. It's also a great opportunity for tourists to experience Christmas in Panama, as there are plenty of activities and events that they can take part in while they're here. Due to the warm, dry weather, many of these Christmas gatherings and events are held outdoors, on the beach, or at homes in the backyard.
The Weather Is Perfect for Christmas in Panama
One of the best things about Christmas in Panama is the weather. Christmas falls at the end of December, which is typically the beginning of summer in this tropical country. The temperatures are warm, dry, and pleasant, making it perfect for Christmas celebrations. The months of December through March are peak tourism season, and both locals and foreigners flock to the country's many beaches and other natural excursions. You can find a lot of seasonal events around areas like Playa Venao, Coronado, Bocas del Toro, and Boquete. Christmas is the perfect time to explore all of Panama's natural beauty, from its stunning beaches to its lush rainforests, and makes for the perfect getaway from North American and European winters.
Experience Christmas Traditions in Panama
Spending Christmas in Panama provides a great opportunity for tourists to experience cultural traditions. Christmas decorations are common in public spaces, as is traditional seasonal food like tamales and buñuelos. Christmas markets are held in many cities, with vendors selling handmade goods and decorations. It's also common to see Christmas parades, caroling, and other Christmas-themed events taking place throughout the month of December. You will find that most local traditions come from a blend of both European and Latin American history, specifically Roman Catholic traditions and songs.
In addition to cultural Christmas traditions, there are plenty of activities for travelers looking for something fun to do that isn't necessarily Christmas-related. You can take a guided tour of the Gamboa Rainforest near Panama City, and visit the iconic Panama Canal. You can also explore the country's many islands, like Bocas del Toro, San Blas, and Coiba Island. Venture into the mountainous area of the interior in places like El Valle, where you can see an active volcano. Or, head to Boquete for hiking, zip line tours, and bird watching. Christmas in Panama is truly a unique and memorable experience that you won't forget, even if you don't celebrate the holiday itself.
No matter how you choose to spend your Christmas or holiday season in Panama, it's sure to be an unforgettable experience filled with new sights and sounds, and lots of new friends and adventures that add up to lifetime memories. To learn more about visiting Panama over the holidays, or if you're looking to find some great Christmas activities and events in the country, be sure to check out our blog posts for more guidance. Also, feel free to contact us directly, and we'd be happy to refer you to the best people in the tourism industry in Panama, Christmas or otherwise.