If you're looking for a change in scenery, why not relocate to Panama? This Central American country is one of the most popular places to retire, thanks to its relaxed lifestyle, comfortable temperatures, and low cost of living. Whether you're looking for a big city lifestyle in Panama City, a relaxing beach town like Coronado or Gorgona, a mountain paradise like Boquete, or an island oasis-like Bocas del Toro, Panama has something to offer everyone.
In this guide, we'll break down the best regions of Panama to move to and explain why each one is worth considering. There are no bad options, but rather better fits for different people with different needs and lifestyles. With so much diversity, you're bound to find the perfect fit for you to relocate to Panama. So, whether you're ready for a new adventure or just curious about what Panama has to offer, keep reading to learn more!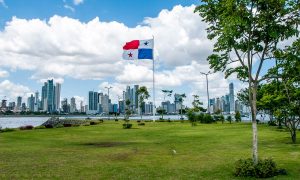 Discover the vibrant capital of Panama City
Panama's large, vibrant cultural center, business center, and capital is one of the gems of Latin America, both at a glance and up close. The city's impressive skyline gives way to a bustling hub of commerce, luxury living, world-class dining and entertainment, and convenience. Panama City, Panama is also one of the safest cities in Latin America, which is a huge selling point for many people looking to relocate.
But it's not all work and no play. In Panama City, you can find world-renowned restaurants, enjoy live music and performances at Teatro Amador, or explore one of the many museums and art galleries in the Old City neighborhood of Casco Viejo. If you're looking for nightlife, there are plenty of bars and clubs to keep you busy until the early hours of the morning. And if you need a break from the hustle and bustle, nearby parks like Parque Natural Metropolitano offer a respite from city life with hiking trails, picnic areas, and stunning views.
Whether you're looking to invest in Panama or live in Panama, you should always consider the city as far as convenience. There are dozens of international flights that enter Panama City's Tocumen Airport each day, and from Panama City, you can reach the rest of the country domestically with relative ease. Most expats choose the areas of Casco Viejo, El Cangrejo, San Francisco, and Clayton to relocate to, traditionally. There are now other great, newly-developed areas that are growing in popularity as well, such as Costa del Este and Panama Pacifico.
Panama's "Playas" region is a dream destination for retirees
As most people know, Panama is an isthmus surrounded by the beautiful tropical waters of the Pacific Ocean and the Caribbean Sea. Just west of Panama City, about an hour and a half away, are the beach communities of Gorgona, Coronado, and San Carlos. This strip of land is known locally as the "playas" region and has long been popular with weekenders from the city, as well as many expat and local retirees. These towns are quiet, safe, and offer a more relaxed lifestyle than Panama City.
Gorgona is fast becoming the area's go-to relocation spot with a population of just over 12,000 but many new condos and amenities. It's a popular destination for fishing, diving, and surfing, as well as for those who want to get away from it all. Coronado is the next town over and is Panama's premier beach house and retirement destination. It's much larger than Gorgona, with a population of around 40,000 people, and has a long history in the region as a weekender's paradise. Coronado has everything you could possibly want in a beach town: beautiful beaches, an array of shops, restaurants, bars, and clubs, and plenty of activities to keep you busy.
San Carlos is the smallest and most laid-back of the three towns and is actually not a town, but rather a district with small villages. Within San Carlos, you'll find the beach communities of Rio Hato, Farallon, and Playa Blanca. Relocating to any of these villages would put you in close proximity to some of the best beaches in Panama, as well as rainforests, mountains, rivers, and lakes. This is a great destination for pure beach lovers who want to relocate to Panama for the resort experience, but may not be a good fit for those who want a more active, full-time community around them.
Living large in the central Valley of Anton
The central Valley of Anton lies just north of the "playas" region, about a two-hour drive from Panama City. It is fast becoming a popular relocation destination due to its cooler weather (higher altitude) and natural splendor that surrounds it. Commonly referred to as "El Valle", this area is home to a large expat community, as well as many Panamanian retirees.
As mentioned before, one of the main reasons people relocate to Anton Valley is the weather. The valley sits at an altitude of around 3000 feet (900 meters) which makes for cooler temperatures year-round than Panama City and the beach towns. It's not uncommon for lows to dip into the 50s (15 C) at night during the winter months, so if you're looking to escape the heat this may be the perfect spot for you. Another big draw for relocators is the natural attractions in and around Anton Valley like El Nispero Zoo, one of Central America's best.
Marvelous mountain living in Boquete, Panama
It's hard to describe just how magical Boquete is without seeing it for yourself, and the thousands of expat retirees who live there would tell you the same. This is one of Panama's most popular relocation destinations for a reason: it's simply breathtaking. Boquete is a small town nestled in the mountains of Panama's Chiriqui province, about a seven-hour drive from Panama City, or a 30-minute drive from David. It's surrounded by coffee plantations, rivers, waterfalls, and hiking trails galore.
The climate in Boquete is also very attractive to retirees and relocators alike, with temperatures averaging in the mid-70s (24 C) during the day and low 60s (15 C) at night year-round. This makes for perfect weather whether you're looking to escape the cold winters up north or the heat and humidity of the tropics. Add in an incredibly low cost of living, good infrastructure, plenty of great food, and Boquete is the perfect mix for anyone looking to relocate to Panama or retire there.
Blissful beach and island life in Bocas del Toro
Panama's most popular tropical destination anywhere in the country is the stunningly beautiful island chain of Bocas del Toro, and it's easy to see why. Bocas, as it's called, is made up of nine main islands, dozens of smaller islets, and two cays. The area is teeming with wildlife both in the water and on land, making it a nature lover's paradise.
While Bocas del Toro certainly has its share of beaches (some say the best in Panama), there's much more to do than lounge around in a hammock all day. You can explore the many mangrove forests by kayak or SUP, go dolphin and whale watching, go diving or snorkeling, take a jungle tour, zip line through the rainforest canopy…the list goes on. And when you're ready to relax, there are plenty of bars and restaurants to enjoy as well as some world-class health and wellness amenities to spoil yourself with when you need them.
Panama is a great place to relocate for many reasons. You can find almost any climate or landscape you're looking for, and the cost of living is very reasonable when compared to other countries in the region. There are also opportunities to invest, retire, and start businesses here that may not be available in other places. If you're interested in learning more about relocating to Panama, contact us today. We would be happy to help you get started on making this life-changing decision.