Holy Week, also known as "Semana Santa" in Panama and across the Spanish-speaking world, is a week-long religious celebration that takes place before Easter Sunday. In Panama, Semana Santa is a significant holiday that is observed with great reverence, particularly by the Catholic community. The week is marked by various religious processions and events, making it an essential part of Panamanian culture. Whether you live in Panama or plan to visit Panama during this week-long event, it's important to understand the religious and cultural significance of it, and how it impacts travel, local pricing, and other daily activities.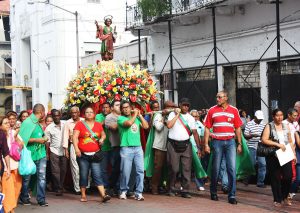 The Significance of Semana Santa in Panama
The religious significance of Semana Santa in Panama is rooted in the Catholic faith, with the week marking the end of Lent, a period of fasting and penance. The week begins on Palm Sunday, which marks the day that Jesus entered Jerusalem. During this time, churches across the country hold special Palm Sunday masses, where worshippers receive blessed palms, which they take home as a symbol of protection and good luck. On the Thursday before Easter, Catholics participate in the washing of the feet, which is symbolic of Jesus washing the feet of his disciples. During this time, priests wash the feet of twelve people, who represent the twelve apostles, and also celebrate the Last Supper.
Good Friday is perhaps the most solemn day of the week. It is the day that Jesus was crucified and is marked by processions of the faithful carrying statues of the Virgin Mary and Jesus. Many churches also hold the Stations of the Cross, which is a devotion that commemorates Jesus' journey to the cross. The week culminates with Easter Sunday, which is the most significant day of the year for Christians. It is the day that Jesus rose from the dead and is celebrated with masses, processions, and family gatherings.
What to Expect During a Week of Celebrations
In addition to its religious significance, Semana Santa is also an essential cultural event in Panama. It is a time when families come together and enjoy traditional foods and drinks, such as "torrejas" (a type of French toast) and "chicha" (a sweet fermented drink). Many people take advantage of the week off work and school to travel to other parts of the country or participate in outdoor activities such as camping and hiking. If you are living in Panama or planning to visit during Semana Santa, there are a few things to keep in mind.
First, it is essential to be respectful of the religious traditions of the country, particularly during processions and other religious events. It is also a good idea to be aware of transportation schedules, as some buses and taxis may not be running during the week. Additionally, it is important to keep in mind that many businesses and government offices may be closed during Semana Santa, so it is a good idea to plan ahead and make any necessary arrangements in advance. Finally, if you are planning to travel during the week, it is important to book accommodations well in advance, as many hotels and vacation rentals fill up quickly.
Vacation Ideas for Semana Santa in Panama
Because this week is such a significant cultural in Panama, there are many ways to participate in the celebrations. If you are looking for something different than the usual religious activities, some of the most popular vacation ideas during this time include beach trips and eco-tourism. Families often head to the beaches of Coronado or the luxurious and serene Pearl Islands, while those seeking adventure may prefer Bocas del Toro or hiking the Volcan Baru in Chiriqui. Another fun Semana Santa vacation idea would be to take a cruise along the Panama Canal, or perhaps even explore the pristine forests on an island such as Isla Iguana.
Regardless of your plans for Semana Santa in Panama, it is sure to be a memorable and unique experience that you will not soon forget. From religious ceremonies to traditional food and eco-tourism destinations. Overall, Semana Santa is a significant and meaningful holiday in Panama, and it is an excellent time to experience the country's rich religious and cultural traditions. Whether you are a devout Catholic or simply looking to learn more about Panamanian culture, there is much to discover and enjoy during this special week. To learn more about local Panamanian traditions, or how you can relocate to Panama to enjoy them yourself, feel free to contact us here.