Panama is a haven for tourists, offering diverse experiences for travelers from all over the world. The tourism industry plays an important role in the Panamanian economy, accounting for 8.6% of the total GDP and 6.7% of employment. Visitors come to this Central American country to experience its breathtaking landscapes, cultural attractions, and unique wildlife. The tourism sector in Panama is diverse and growing steadily thanks to the allure of the Panama Canal, tropical beaches, temperate mountain region, and the country's strategic location in the Americas.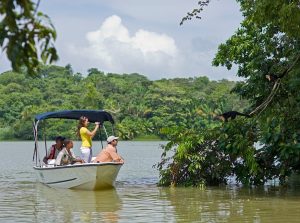 Panama's main tourism draws
Panama's most popular tourist destinations include the capital city of Panama City; Bocas del Toro, known for its tropical beaches; the Las Perlas Archipelago, with its white sand beaches and coral reefs; the historical port city of Portobelo, situated on the Caribbean coast; and San Blas Islands, boasting a variety of wildlife species including dolphins, sea turtles and several species of pelicans which are protected under national law. In each of these destinations, you'll find a range of attractions, from historic sites like Panama Viejo and Fort San Lorenzo to exotic beaches, rainforest tours, and nature activities.
Aside from its stunning natural beauty, visitors also flock to Panama for its rich cultural heritage that spans seven distinct indigenous groups in addition to the various Spanish settlers who came here centuries ago – all of which contribute to a vibrant culture that continues today. In addition to traditional customs such as festivals and folkloric music performances, visitors can explore museums such as Panama Viejo or Casco Viejo where they will learn about colonial history and maritime trade which made Panama an international hub during days gone by.
How Panama tourism helps to feed other economic sectors
Due to the size of Panama and the limited land area, Panama heavily relies on the tourism sector to drive its economy. The Panama Canal is an especially important source of revenue as more than 5 percent of global maritime trade passes through it annually, generating billions in profits which are reinvested into Panama's infrastructure and other economic sectors. In addition to the Panama Canal, Panama tourism also drives external revenue through the capital, Panama City, which is Panama's main hub for international business and finance. The city is often a starting point for tourists, or a final destination, and offers a wealth of attractions to explore.
The Panama tourism industry continues to develop new offerings each year, from luxury resorts and boutique hotels to exclusive experiences like whale watching and sailing tours in Panama's Bay of Panama. These activities help Panama attract more visitors, which in turn drives economic growth for Panama as a whole and supports other sectors. Moreover, Panama's tourism sector has helped to create jobs in other industries such as hospitality, transportation, and entertainment – Panama City alone is home to dozens of luxury hotels and resorts catering to visitors from around the world.
Panama's strategic location is a big draw to Panama tourism
A big reason why Panama's tourism is so successful is its central and strategic location in the Americas. Panama bridges Central and South America and is located at a crossroads between Panama City, the Caribbean Sea, and the Pacific Ocean – making it ideal for travelers from all over the world who can take advantage of Panama's convenient location. Panama's international airports are also connected to major cities in Europe, Asia, Canada, and the United States, which allows for easy and affordable access to Panama and its attractions via air.
The Panama tourism industry continues to grow annually, and Panama remains a popular destination for travelers worldwide thanks to its breathtaking scenery, vibrant culture, convenient location, and potential for economic growth as Panama further develops its tourism infrastructure. With so much beauty and culture to explore, it is no wonder why Panama is a top vacation destination – providing travelers with an unforgettable experience no matter what their interests may be!
To learn more about relocating to Panama, exploring Panama as a tourist, or retiring in Panama, please contact us online here. Our team of experts can help you make the most of your Panama experience, and we can recommend or consult you on any of your relocation or tourism needs.