Relocating to Panama can be an exciting venture, but if you're planning on driving in the country, there are some things you should know first. For starters, only certain areas of Panama are conducive to not owning a car, and in most of the country, cars are the main form of transportation for those who can afford them. This is mostly due to the inconsistency of rural public transportation, which while improving, still has a long way to go before it reaches efficiency. Rural and suburban driving in Panama will save you hundreds of hours of time over the course of a year and is a comfortable way for many people (particularly expats) to get around.
On the other hand, if you live in one of the central parts of Panama City, it can actually be quite difficult to own and drive a car due to traffic and parking congestion, although many still choose to drive as it allows them to explore more of the country at their leisure. Here's what you need to know ahead of time to prepare you for driving in Panama.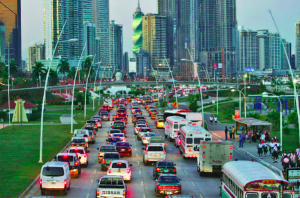 How to buy a car in Panama
If you do decide on driving in Panama, you'll want to buy a car. The process isn't particularly difficult and there are many choices in terms of makes and models. Prices vary depending on what type of vehicle and year model you choose, but in general, they tend to be a little higher than those found in North America, and a little lower than those found in Europe. You will need to obtain a valid driver's license from Panama before buying a car so make sure to get one through the Ministry of Transportation beforehand. Alternatively, some foreign licenses may be accepted by local authorities as long as certain requirements are met – check with your local Ministry of Transportation for details on this.
Whether or not you need a car when moving to Panama depends heavily on where you plan on living within the country. If commuting around town by foot is feasible given your location then it might not be necessary, however, if doing so would be difficult then owning your own vehicle could make life much easier. The type of car that you choose will also depend heavily on where you live and what you plan on using your car for. For example, if you plan on doing a lot of highway driving or exploring the countryside, then an SUV or crossover might be preferable. If you want a car to commute from the suburbs into the city, then a smaller, more fuel-efficient vehicle should suffice.
Regardless of what type of car you choose, be sure to research different models and sellers before you buy. You can buy a used or new car in Panama at a dealership or from a private seller, and you should always take a vehicle for a test drive and inspect it thoroughly before making any purchases.
How to adjust to driving in Panama
Driving in Panama can be an exciting experience, but make sure to plan ahead so that you know what to expect after buying a car. Driving in the capital and other surrounding urban areas can be very stressful due to intense traffic and congestion, especially during commuting times. Panama tends to have massive traffic issues in the city due to how fast it has grown, and this can cause a lot of headaches for drivers who aren't used to it. You may find that living closer to work or where you need to go daily is more convenient than using a car to commute longer distances, so plan accordingly.
Whether you're driving in Panama City or the rural parts of Panama, there are some general road rules to keep in mind before taking your car out on the open roads. Driving is done on the right side of the road and drivers must always give way to pedestrians crossing at pedestrian crossings. All cars should have their headlights working and on during dusk, nighttime, and when it's raining. Keep in mind that the roads can be quite narrow in rural areas and that vehicles tend to get priority over pedestrians. It's also important to be aware of construction projects that may cause delays, which are very common for a country in a development boom like Panama.
Planning for the elements in the tropics
One of the benefits of relocating to Panama is escaping winter or any semblance of cold weather and trading it for tropical warmth and humidity. While this makes the quality of life and lifestyle of living in Panama pleasant, it can also have adverse effects on driving and your car maintenance (just like snow/winter can). Due to the rural nature of much of Panama, it is not uncommon for rain to flood roads and cause accidents, so make sure to drive slowly when it is wet and be aware of any flooding warnings in the area. Driving in the rain can also shorten the lifespan of your car due to rusting if you are not proactive with cleaning and maintenance.
Also remember that Panama has a high amount of sunlight year-round, and your car can heat up fast if you do not have a garage or covered parking. During the dry season, this is especially true, so investing in some window shades to keep your car cool may be a good idea if you plan on leaving it for long periods of time. Many locals choose to buy cars that have some kind of tint on the windows to help protect them from the sun, so this could be a good option if you plan on staying in Panama for an extended period.
No matter what the reason, driving in Panama can be a great experience and can enrich your quality of life when living in this beautiful country. Just be sure to do your research, get a Panama driver's license (or use an international one), and plan ahead for the elements so that you can enjoy the best driving experience possible. To learn more, contact us here, and we look forward to helping you with all of your relocation needs as you move to Panama.