Dining in Panama City, the country's vibrant capital, has seen an explosion in its restaurant scene in recent years, and that's great news for both locals and foreigners alike. From fine dining establishments to casual eateries, the city now offers a wide range of culinary options that cater to every taste and budget. One of the reasons for this growth is the city's status as a hub for international business and tourism. As a result, there has been a rise in the number of full-time foreign residents and tourists who have brought with them their own food culture, making the city a melting pot of flavors.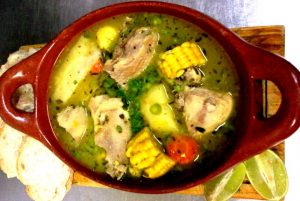 The basics of Panamanian food culture
The local food culture that influences dining in Panama City is heavily influenced by its proximity to the Caribbean Sea. Seafood is a staple in many traditional dishes, such as ceviche, a dish of marinated raw fish or seafood, and arroz con mariscos, a rice dish made with fresh seafood. Another popular dish is sancocho, a hearty soup made with chicken or beef and vegetables. Panama City also has a rich indigenous food culture. The Kuna and Emberá people, who have lived in Panama for centuries, have their own unique cuisine. Some of their dishes include tortillas made from yucca or corn, coconut rice, and fish cooked in banana leaves.
International food culture has also made its mark on the city's dining scene. Chinese cuisine, for example, is hugely popular in Panama City, with many Chinese restaurants and grocery stores. One of the most popular dishes is arroz frito, or fried rice, which is often served with pork, chicken, or shrimp. You will also see a lot of North American-style cuisine when dining in Panama, particularly burgers, sub sandwiches, and other types of fast food. This is not only limited to tourist areas either. Burgers, for example, are one of the most popular food types in both working-class Panamanian residential neighborhoods as well as heavily touristed ones.
The diversity of flavors that can be found while dining in Panama City
Asian cuisine, in general, has become increasingly popular in the city. Japanese sushi restaurants, Thai curry spots, and Korean barbecue joints can all be found in the city's more affluent neighborhoods. Middle Eastern food, such as falafel and hummus, is also gaining popularity in Panama City. The city's fine dining scene has also grown significantly in recent years. There are several high-end restaurants that offer cuisine from around the world, as well as some that focus on Panamanian cuisine with a modern twist. One of the most famous fine dining restaurants in the city is Maito, which offers a unique tasting menu that combines traditional Panamanian ingredients with modern techniques.
In addition to the city's fine dining options, there are also plenty of casual restaurants that offer delicious food at more affordable prices. The Mercado de Mariscos, or Fish Market, is popular with locals and tourists. Here, you can find fresh seafood cooked on the spot, including ceviche and fried fish. Another popular spot for casual dining is the Casco Viejo neighborhood, which is known for its charming cobblestone streets and colonial architecture. The neighborhood is home to several restaurants that offer a mix of international and local cuisine, as well as bars and cafes that are perfect for a casual night out.
How to budget for a good meal while dining in Panama City
If you plan on dining in Panama City, you can expect to pay anywhere from US$5 for a meal at a street food stall to US$100 or more per person for an upscale restaurant. For budget-conscious travelers, plenty of options are available, and an average meal will cost about $20-$40 per person with a few drinks. Certain areas in Panama City tend to have more pricey restaurants due to the large tourist presence, so if you're looking to save some money you should avoid areas like Casco Viejo, Amador, Avenida Balboa, and Punta Pacifica. However, there are plenty of delicious and affordable restaurants located in other parts of the city where you can get quality food at a reasonable price.
Overall, dining in Panama City is an amazing experience that offers a range of options for all budgets, so planning is key to getting the most out of your experience. If you want to eat something casual, don't forget to head to or explore the smaller, less touristy neighborhoods. If you're looking for a more upscale dining experience, there are plenty of high-end restaurants in Panama City that offer exceptional cuisine from around the world. Regardless of where you choose to eat, chances are you'll find something delicious and memorable during your day or night out on the town.
In conclusion, the restaurant scene in Panama City has exploded in recent years, offering a wide range of culinary options for locals and tourists alike. From traditional Panamanian dishes to international cuisine, the city has something for everyone. Its proximity to the Caribbean Sea and its indigenous food culture have influenced the local cuisine, while the city's status as an international hub has brought with it a diverse range of flavors from around the world. Whether you're looking for a fine dining experience or a casual night out, Panama City has it all. To learn more about relocating to Panama or for a better idea of what to do while visiting Panama or living here, contact us here now.