If you're looking for some great day trips from Panama City during your stay, or during your time here as a resident, you'll have plenty to choose from. Panama City, the vibrant capital of Panama, is not only a bustling metropolis but also a gateway to extraordinary natural wonders and cultural gems. With its strategic location, surrounded by stunning landscapes and diverse ecosystems, Panama City offers numerous exciting day trip opportunities for both tourists and residents. In this blog post, we will explore ten must-visit destinations that can be easily reached from Panama City, ensuring unforgettable experiences and adventures.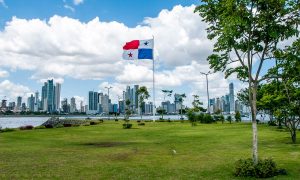 Top Ten Day Trips From Panama City, Panama
1. Panama Canal Expansion:
Start your day trip with a visit to the Panama Canal Expansion Observation Center. Witness the marvels of modern engineering as massive vessels traverse the newly expanded locks. Learn about the canal's history, its impact on global trade, and the intricate lock system that connects the Pacific and Atlantic Oceans.
2. San Blas Islands:
Embark on a journey to the breathtaking San Blas Islands, a paradise of pristine beaches, crystal-clear waters, and vibrant coral reefs. Hop on a boat from Panama City and spend the day exploring this archipelago's picture-perfect islands, meeting the indigenous Guna people, and snorkeling amidst an abundance of marine life.
3. Gamboa Rainforest:
Escape the city's hustle and immerse yourself in the lush Gamboa Rainforest. Take a boat tour along the Panama Canal's tributaries, keeping an eye out for wildlife such as monkeys, sloths, and exotic birds. Engage in thrilling activities like ziplining, hiking nature trails, or taking a canopy tour to fully experience the wonders of the tropical rainforest.
4. Taboga Island:
Just a short ferry ride away from Panama City lies Taboga Island, known as the "Island of Flowers." Indulge in a leisurely day trip, strolling along its picturesque streets, visiting the charming colonial church, and relaxing on its pristine beaches. Don't forget to savor fresh seafood dishes while taking in panoramic views of the Pacific Ocean.
5. El Valle de Anton:
Venture into the highlands to discover El Valle de Anton, a picturesque town nestled in an ancient volcanic crater. Explore the lush surroundings, visit the colorful local market, and take a dip in the rejuvenating hot springs. Hiking enthusiasts can trek to La India Dormida, a famous mountain ridge offering stunning vistas of the valley.
6. Soberania National Park:
For nature enthusiasts, a visit to Soberania National Park is a must. Located just outside Panama City, this biodiverse park is a birdwatcher's paradise, home to over 500 species. Explore the park's well-maintained trails, go on a guided bird-watching tour, or take a boat ride along the Chagres River to spot monkeys, sloths, and other wildlife.
7. Embera Indigenous Village:
Experience the rich indigenous culture of Panama with a visit to an Embera village. Immerse yourself in their traditional way of life, learn about their customs and crafts, and enjoy a traditional meal. Take a dugout canoe ride along the Chagres River, surrounded by lush rainforest, for a truly authentic and educational day trip.
8. Portobelo:
Discover the historical town of Portobelo on the Caribbean coast, renowned for its colonial fortifications and vibrant cultural heritage. Visit the UNESCO-listed San Felipe Fortress, explore the town's charming streets, and learn about its significant role in Panama's history as a crucial trade port.
9. Summit Botanical Gardens:
Unwind amidst nature at the Summit Botanical Gardens, a tropical paradise just a short drive from Panama City. Stroll through its extensive collection of native and exotic plants, visit the butterfly house, and enjoy the tranquility of its beautiful landscapes. The gardens also feature walking trails, picnic areas, and a small zoo.
10. Anton Valley Zoo and Canopy Adventure:
Perfect for families, the Anton Valley Zoo offers an opportunity to get up close and personal with a variety of animals, including jaguars, monkeys, and tropical birds. Additionally, thrill-seekers can experience an adrenaline rush by embarking on a canopy adventure, soaring through the treetops on zip lines and suspension bridges.
Plan Your Next Day Trips From Panama City, Panama
From the wonders of the Panama Canal to the natural splendors of rainforests, islands, and highland towns, planning day trips from Panama City provides a plethora of exciting options. Whether you're a tourist seeking adventure or a resident looking to explore the treasures beyond the city limits, these ten destinations offer unforgettable experiences and a chance to delve into the cultural and natural riches of Panama. Embrace the diversity, embark on new adventures, and make the most of these captivating day trips in Panama. To learn more, contact us here now!