Relocating to Panama can be a great option for families of all sizes, and with all types of budgets and living requirements. The weather is warm year-round, plenty of outdoor activities to enjoy, and the cost of living is relatively low. In addition, Panama is a culturally diverse country with a rich history and traditions. Families relocating to Panama will find many opportunities to explore and learn about new cultures. Panama is also home to some of the world's most beautiful beaches, making it a perfect place to relax and enjoy time with family.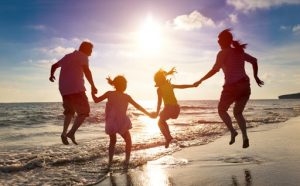 Family-Friendly Benefits of Living in Panama
With so much to offer, relocating to Panama can be a great way for families to experience all that this vibrant country has, in a way that makes everyone in the family happy and taken care of. Panama is a country that values family life tremendously, and embracing the family is a huge part of the local culture. You'll find that people in Panama are very welcoming and accommodating of families, offering lots of services and amenities to make the transition a smooth one.
The cost of living in Panama is also significantly lower than in many other countries. This makes it possible for families who want to relocate to enjoy a much higher quality of life at an affordable price point. Property taxes and other costs associated with owning a home are much more reasonable in Panama than in other countries, making it easier for families to find their dream homes.
Panama also has an excellent education system and a wide range of educational programs available to students of all ages. The country is also very safe, which provides a sense of comfort and security to families relocating to the area. With its beautiful landscapes, vibrant culture, and abundance of leisure activities to enjoy, Panama is an ideal place for families looking to start a new life abroad.
How to Adjust to Family Life in Panama
Of course, all families are different and everyone has their own needs when it comes to lifestyle, culture, and how their family chooses to live at home or abroad. Relocating to Panama can be a bit of a scary prospect for some family members, which is perfectly natural considering how many changes will be on the way. In order to ensure that everyone in the family adjusts smoothly, it's important to take the time to research and understand the ways of life in Panama, as well as any laws or customs that may be different than back home.
It's also important to get proactive about finding activities and resources as a family that can help bond you to the country together, and ease any worries about cultural adjustment or homesickness. A good start is to participate in local events, visit new places, try the local cuisine, and even take a few Spanish language classes. Doing these things together can help to create a sense of unity in your family's new home.
For those looking for an even more rewarding experience in Panama, there are lots of volunteer opportunities available throughout the country that can help you make a real impact, and bond your family to local families in a way that can be very rewarding. Volunteering will give your family a perspective that is invaluable and will ingratiate you to local volunteer organizations that can help you in numerous ways throughout your time in the country.
Where to Live in Panama as a Family
The decision of where to live in Panama is an important one, as it can help define and shape a family's entire experience. Depending on your individual needs and preferences, there are plenty of excellent locations throughout the country that can provide a safe and comfortable home for you and your family. For those who prefer urban living, Panama City offers the best opportunities, with its modern infrastructure, diverse culture, and abundance of amenities. On the other hand, if a more laid-back lifestyle is what you're looking for, then there are plenty of smaller towns throughout the country that can provide a quieter home away from the hustle and bustle of city life.
The more rural beach and mountain communities are becoming more popular with families relocating to Panama. This is because of the intimate expat communities in certain areas, as well as a less hectic, more relaxing quality of life. Towns like Coronado and Boquete attract retirees and families looking for a slower pace of life, while places like Bocas del Toro are becoming increasingly popular with those looking to take advantage of the country's beautiful beaches.
In the end, it comes down to personal preference. Panama offers something for everyone, so whatever your family is looking for in terms of lifestyle and amenities, you will be sure to find it in this amazing Central American country. Overall, Panama is an ideal place for families looking for a change of pace and looking to relocate long-term together. To learn more about how you can relocate to Panama, contact us today. We would be happy to help you in all aspects of the relocation process and have decades of experience to leverage in this space.