There's a lot to love about Panama – incredible beaches, lush rainforests, diverse culture, and much more to discover and explore. If you're looking for an amazing and exotic destination for your next vacation, look no further than this beautiful country. In fact, even if you live in Panama you can still enjoy all of these great options for travelers not far from home. In this blog post, we'll highlight 10 things you can do in Panama while on vacation here. From exploring the capital city or going on a coffee plantation tour to hiking in the hills of Volcan or Boquete, there's something for everyone in this Central American nation. What are you waiting for? Book your flight to Panama today!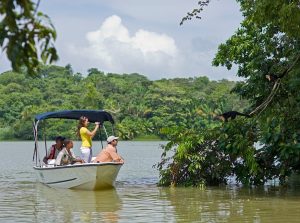 10 Things to Do in Panama on Vacation
1. Explore Panama City: Panama City is the capital and largest city in the country, so it's a great place to start your Panama vacation. This modern metropolis is home to skyscrapers, luxury hotels, and plenty of things to do. Explore Casco Viejo, Panama's old city, where you can find colonial architecture and some of the country's best restaurants, cafes, and nightlife. There is also plenty of shopping, art, food, and culture throughout other more modern sections of Panama City, as well as the beautiful Cinta Costera park that runs along the bay.
2. Visit the Biomuseo: The Biomuseo is one of Panama City's most popular attractions and a relatively new architectural landmark for the country and region. This museum is dedicated to the country's biodiversity and features interactive exhibits about the Panama Canal, rainforests, and more. The building itself is also quite striking, with colorful geometric shapes designed and imagined by the famous architect, Frank Gehry.
3. Coffee Plantation Tour in Volcan: For coffee lovers, a visit to Panama wouldn't be complete without a plantation tour high in the western mountains of Chiriqui around the town of Volcan. Panama makes some of the world's best coffee, with a variety of different beans grown in the rich volcanic soil. On a plantation tour, you can learn about the coffee-making process from start to finish, see how it's been harvested and processed for years, and (the best part) taste some fresh coffee yourself!
4. Visit the San Blas Islands: One of the most popular things to do in Panama is to visit beaches, and you'll find some of the country's best in this incredible indigenous archipelago. The San Blas Islands are made up of over 365 islands, many of which are uninhabited and only accessible by boat. Here you can find white sand beaches, crystal clear waters, and plenty of coral reefs perfect for snorkeling and diving. You can also find some of Panama's best seafood on these islands, so bring your appetite and prepare to immerse yourself into the local indigenous food and hospitality culture.
5. Sail Through the Panama Canal: This is always at the top of any list when it comes to things to do in Panama on vacation and it's easy to understand why. The Panama Canal is one of the most impressive engineering feats in human history and it's something you have to see to believe. You can take a tour of the canal itself by boat/ship, and sail through the mighty Miraflores Locks and Gatun Lake. Another option is to visit the Canal by land and take a tour of the Miraflores Visitor Center to learn all about how this incredible waterway came to be.
6. Hike Around Beautiful Boquete: The small town of Boquete is a true gem, and it's been a hot spot for retirees and Panamanian ecotourism for many years now. In Boquete, you'll find some of the best hiking and outdoor activities anywhere in the country. Explore the nearby national parks, waterfalls, and coffee plantations or take a dip in one of the many hot springs that surround this charming mountain village. You'll love the town itself, too, with its many cafes, restaurants, and boutique shops.
7. Explore El Valle de Anton: This small town in the center of Panama, surrounded by lush rainforested hills, is another great option for a stop on any vacation in Panama. El Valle is also known for its many thermal springs, which are perfect for a relaxing soak after a day of hiking or exploring the town. You can also find some great restaurants and lots of nice places to go for a bike ride, walk, drive, or even an ATV tour. Getting to El Valle is also a bit easier than Boquete, as it's much closer to Panama City and the Pacific side of the country.
8. Beaches in Bocas del Toro: Panama's beaches are always a huge draw, and the islands of Bocas del Toro have some of the country's best. Visit Red Frog Beach, where you can find clear turquoise waters, white-sand beaches, and plenty of things to do like stand-up paddleboarding, kayaking, and surfing. The community in Bocas is friendly, and with a number of islands to explore, you can find a perfect spot to relax or adventure, whichever you're looking for.
9. Visit the Embera Village: For a truly unique experience, consider taking a guided educational tour to an Embera village in Panama. The Embera people are an indigenous group that has managed to preserve their traditional way of life and culture despite the modern world encroaching on their land. You can learn about their customs, see how they live, and maybe even get a traditional Embera outfit or artisan piece while you're there. It's a great way to learn about Panama's deep indigenous culture and historic roots, and something you won't find anywhere else.
10. Take a Monkey Island Tour: Panama's wildlife is abundant, and the country has some of the most diverse flora and fauna anywhere on earth. While visiting, take a tour of "Monkey Island", where you can see all sorts of monkeys up close in their natural habitat. It's a great opportunity to take some amazing photos and learn about these incredible wild creatures. Monkey Island is located near Panama City, so it's easy to add to any itinerary.
Plan Your Itinerary Full of Wonderful Things to Do In Panama
To get started on planning your perfect trip full of all the best things to do in Panama, the first step is to book a flight. Panama has many great options for international air travel including non-stop flights from many major U.S. and Canadian cities. Once you're in Panama, you can easily get around by bus, taxi, or rental car. So what are you waiting for? Get started planning your trip to Panama today! There's no better time than now to start crossing things off of your travel bucket list.